The Most Important Take-Aways From Day One of the International Bulk Wine & Spirits Show Conference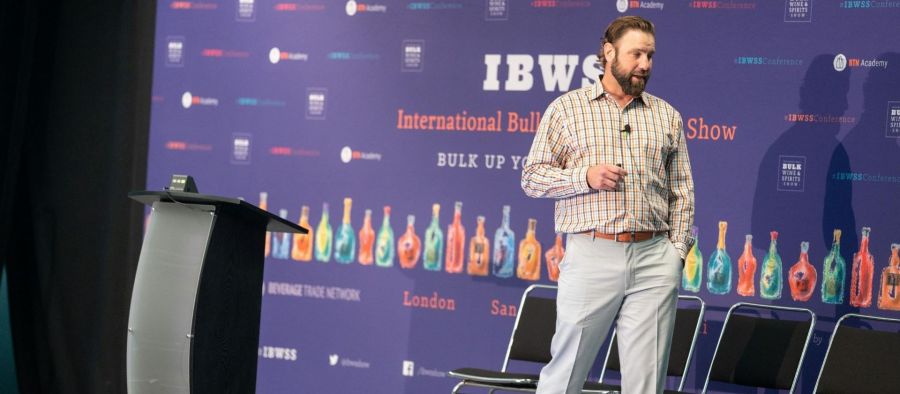 Quality, Diversity, Inclusion, Sustainability, and Opportunity
09/11/2021
South San Francisco Convention Center is filled to the brim with wine and spirits industry legends, influencers, innovators, and exhibitors looking to network, scale their businesses, and expand their market share in the wine and spirits sphere.
In its fourth year, the International Bulk Wine & Spirits Show is the place where bulk beverage business happens. Walking through the expo hall, I found eager vendors from the most important wine and spirits regions across the globe looking to make connections with key private label producers in the United States. I spoke with French producers crafting Burgundian and Provencal sparkling crémant (since 1898) now available for private label. Who doesn't want their own bubbly brand? I came across a cooper from Maine specializing in incredibly aromatic bourbon-infused barrels that smelled divine. And, a custom label producer capable of transforming your vision into the perfect label for your brand. With more than a hundred exhibitors, two days may not be enough to visit each intriguing company offering their advice alongside their wares.
The International Bulk Wine & Spirits Show coincides with an annual conference that brings the brightest and most influential minds in the beverage business together on one stage to talk about trends, best practices, strategy, sustainability, diversity, and the realities impacting the beverage business today.
Day one of the conference opened with Todd Azevedo, of the Ciatti Wine Company, who discussed the latest trends and opportunities in the global bulk wine market. Todd stated while consumer preferences continue to change, largely due to the pandemic, the sweet spot of production, price, and consumption is attainable. Bulk wine and wine juice concentrate prices are trending up. Massive logistics challenges and higher raw material prices make the bulk sector particularly attractive to existing and emerging brands.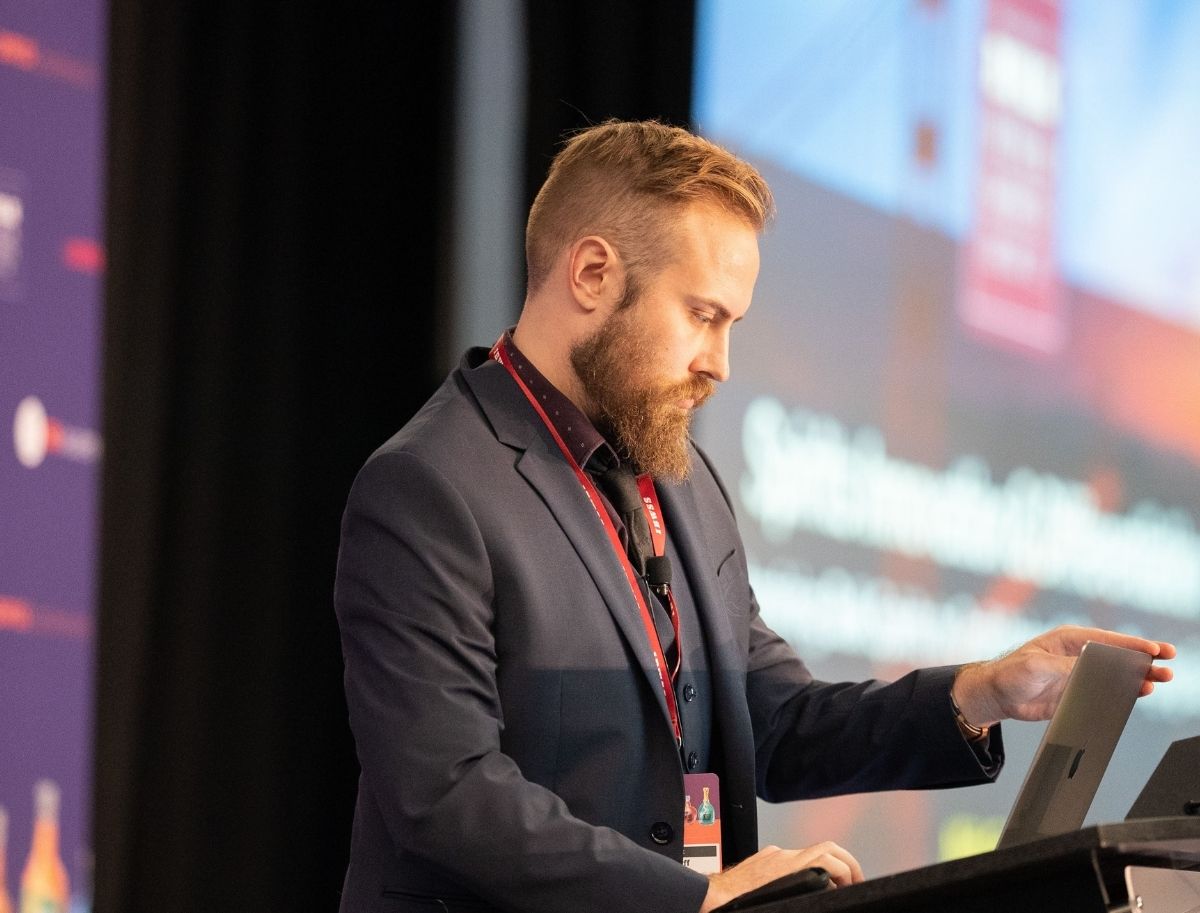 Nick Scarff presenting on 'Customizing Bulk Spirits To Craft Unique & Game-Changing Brands'
Master blender and VP of Century Spirits, Nick Scarff, spoke about customization, differentiation, and the high costs of penetrating the craft distillate market. Nick stressed, along with most speakers during Day One, that quality is a must for ensuring brand loyalty.
Oliver Colvin, the Chief Operating Officer and General Counsel for the Winery Exchange shared his educated insights on operating in an asset-light model, similar to the French negociant model, in order to scale your business while maximizing profits and controlling costs. Adopting this tried and true business strategy leads to fewer (and less costly) mistakes, more transparency throughout production, improved team accountability and dedication, and, ultimately, to produce the highest quality wine possible. Olivier stressed that a proper forecasting system is absolutely critical in our (near-post) pandemic business environment and revealed the economic devastation that inflation, supply chain, and logistics hardships, and trade wars are having on the beverage business across the globe. The biggest takeaway from Oliver's talk was a riff on "Got Milk." Suggesting that the wine industry comes together as a unified "Got Wine" front is the best strategy for hedging against obstacles like inflation and logistics.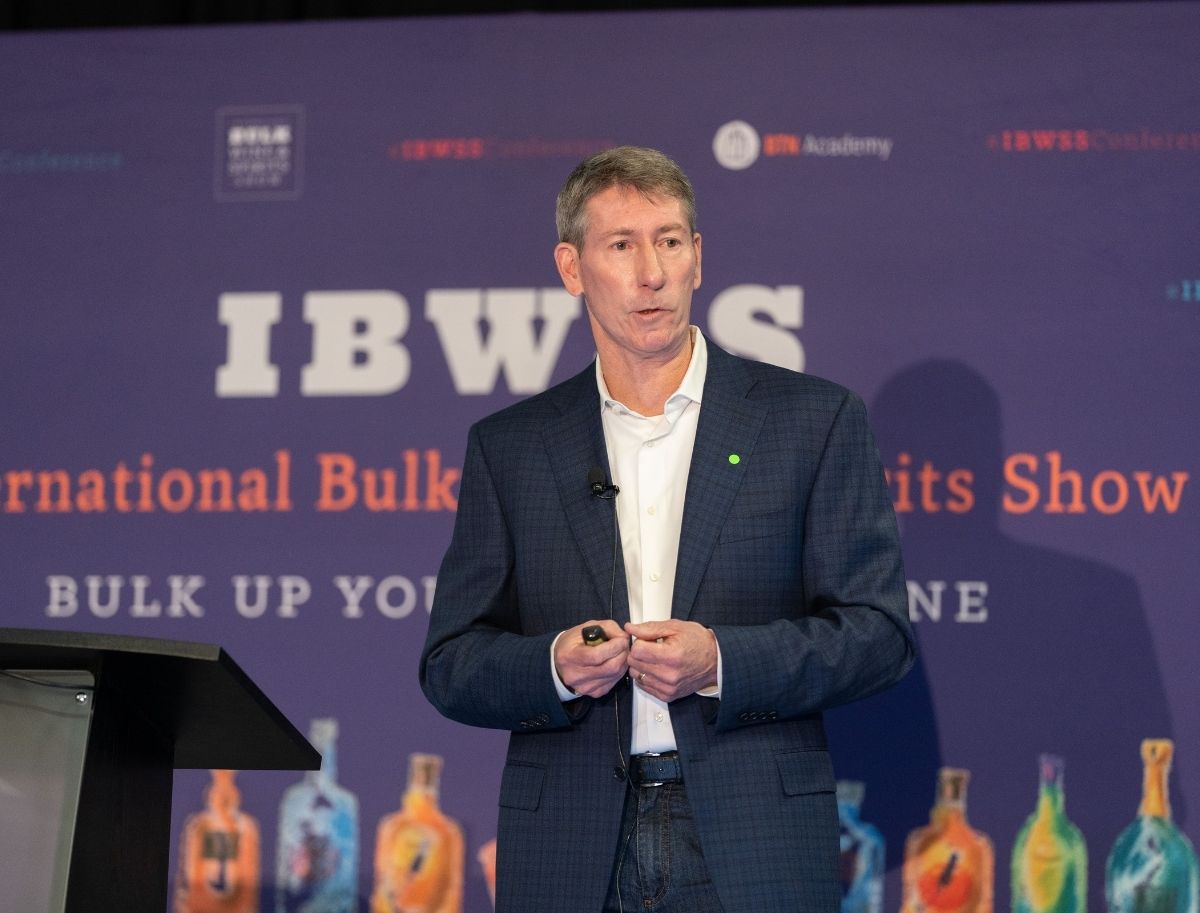 Oliver Colvin on 'Controlling costs and Operating in an asset-light model to grow the bottom line and scale faster'
Bruce Abbott opened the afternoon session with an insightful and reflective discussion on breaking into retail as a private or lesser-known label. Bruce is a life-long Alaskan and 17-year veteran of the Wine & Spirits Industry. Bruce now manages a selection of over 7,000 wines and spirits across Brown Jug's 21 retail locations and in this talk, he will discuss ways suppliers can offer their private and control label programs and work with regional chains like his. Bruce's three-point strategy of investigation-pitch-and follow up seems quite logical. Bruce revealed that the most important aspect of this strategy begins and ends with the investigation stage. To attain success and longevity, the seller must understand the business buyer. Your sales target is the business, not the consumer. If you can't make their job easy and illustrate your financial benefit, move on and don't waste their (or your) time.
Martin Reyes, MW, Master of Wine and Founder Of Reyes Wine Group opened his talk with a few light-hearted jokes to break the ice, so to speak. His passion is apparent and his approach to sustainability is unique. As a climate crisis skeptic, Martin thinks deeply and researches extensively. He directly asked why sustainability is important and attempted to answer it in 5 minutes or less. Covering a lot of ground, Martin took the audience from green-washing and misconceptions set up by labeling wines organic, biodynamic, and natural to the hard truths about the climate and diversity crisis happening in the beverage business. Martin left us with two strong messages: firstly, "your winery, brewery, and distillery must prioritize sustainability, and secondly, in regards to affordability: you can't afford not to." Sustainability is about People, Planet, and Profit, and all three must be integrated for brand success in the market today. Consumers are demanding sustainability, and ultimately, not giving them what they want will cripple your brand.
Joe Padilla, VP of SALES at Summerland Wine Brand, with a newly minted MBA from Sonoma State Wine Business Institute, gave the audience a crash course MBA in running a bulk and private label business. Joe immediately revealed that the US market is falling behind in the bulk wine sector. 30% of European brands derive from bulk wine with just 10% of US brands. Globally, bulk wine is tracking to new heights, especially under trade wars, climate crises, and trade wars. Bulk wine is where it is at. His best advice: answer the WHY question as thoroughly and introspectively as possible. One motivation is established, then move on to the other considerations: name, varietal, style, price, place, and packaging. "Why" will determine all other concerns. Bulk wine can be a difficult sector and you must be ready to succeed in the game.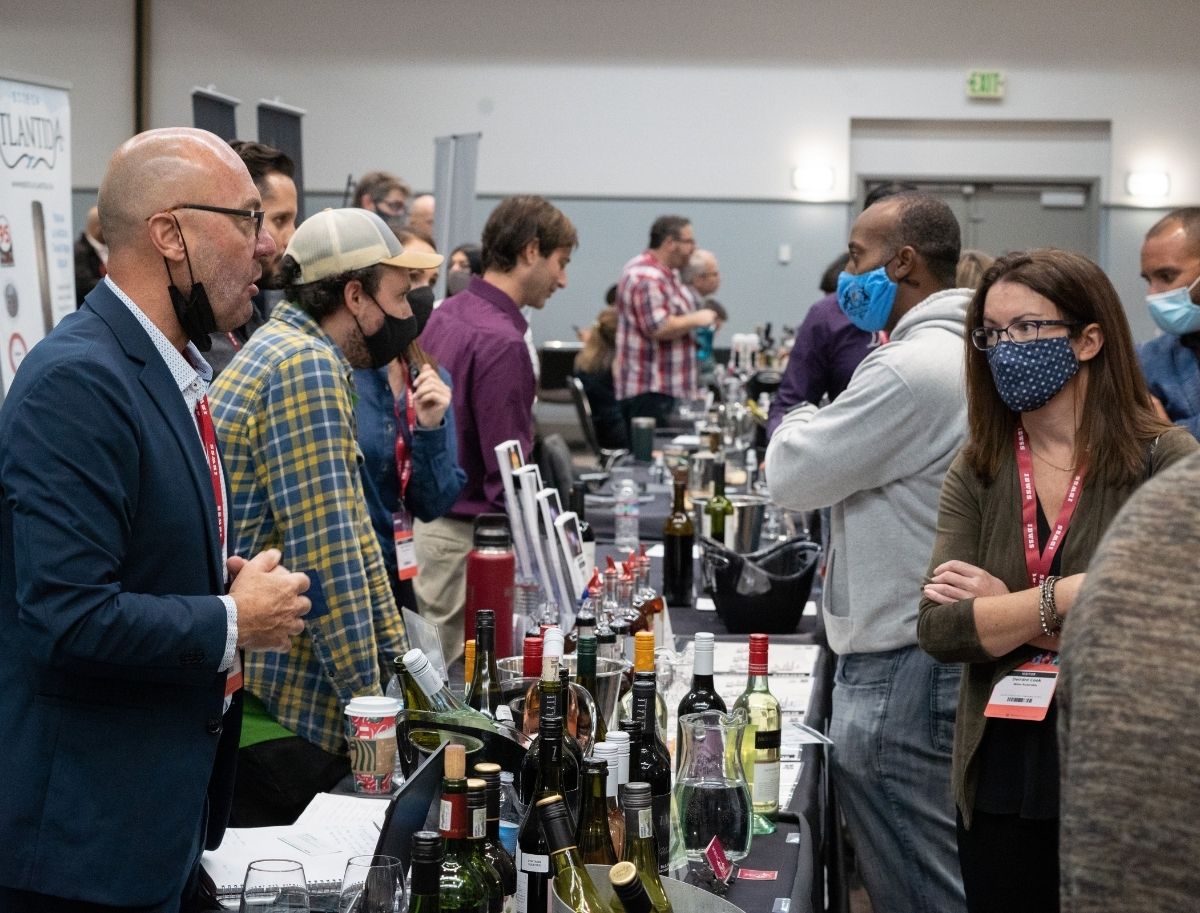 Expo Floor at the 2021 International Bulk Wine & Spirits Show
Master Sommelier Carlton Mccoy quipped that he is as uncomfortable with all of his titles and the letters after his name as he is with the industry crippling facade of superiority and formality that is strangling the wine business causing a loss of market share to the more casual beer and hard seltzer sectors. In his talk on building a premium brand, Carlton is distinctively non-premium in his approach. Meaning, he likes to rub elbows from a barstool to build his businesses. As the managing partner at Lawrence Wine Estates, he has successfully positioned several brands correctly above their previous mark. According to Carlton, and a thread through each speech today, quality is key. If the product doesn't achieve levels of quality, it will never thrive or survive. Completing stories, clear and engaging identity, passion to spare, and the romance around the business are not enough to guarantee success. Quality is of the utmost importance, and it isn't subjective. Carlton generously answered questions, as did every speaker, but he left us with a quote from his dad, "Some of the greatest life lessons is what not to do." Meaning, be sure you are in the wine business for the right reasons. Because, according to him, "so many great wines in the world never get sold or consumed because their story isn't compelling enough, their passion for selling does not exceed their passion for wine, and distribution partnerships are weak."
After such an invigorating first day at the International Bulk Wine & Spirits Expo & Conference, I can't wait for Day Two. November 10, 2021, 9:00 am, sharp. See you there!
---
Article Written By: Simone FM Spinner, writer, editor, emcee, wine consultant, and cellar manager.