Get on Top of the Latest Happenings in the Bulk Wine and Spirits Industry at IBWSS San Francisco
The July 2019 show in California will bring together producers, suppliers, distributors, and retailers to discuss new opportunities in the bulk wine and spirits trade.
Over the past decade, the world has experienced a fundamental transformation in how we think and talk about bulk wine and spirits. The movement to a private label-driven agenda had led to an unprecedented increase in the buying and selling of bulk wine and spirits. At the same time, the globalization of the wine industry has raised the profile of bulk wine coming from Australia, South Africa, and South America. As a result, there is a tremendous amount of innovation happening as the North American wine and spirits market undergoes disruptive change. And there is nowhere better to see these strong trends at work than at the annual International Bulk Wine & Spirits Show (IBWSS), which is taking place July 23-24, 2019 in San Francisco.
The Need to Trade
The International Bulk Wine and Spirits Show launched in 2017 in San Francisco and has quickly become an international phenomenon. There are now IBWSS shows in both London and Shanghai, further proof that the bulk wine and spirits trend is here to stay. A wide range of both on-premise and off-premise establishments are exploring new ways to tap into the private label trend, while others are leveraging the economics of bulk trading to offer a wide range of affordably-priced wines and spirits that are attractive to the modern, value-seeking consumer.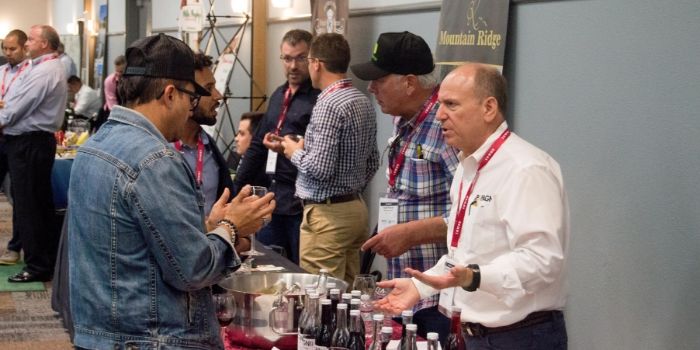 There is no question that the bulk wine and spirits trend is good for the bottom line of industry participants. The rise in popularity of bulk and bottled in market wine means that there are more opportunities than ever before to diversify portfolios, expand product ranges, and reach entirely new demographic groups. That has a direct impact on revenue. Add in the fact that private label wine and spirits enable market players to markedly increase their margins, and it's clear that it's possible to boost profitability as well. In short, it's now possible to "Bulk Up Your Bottom Line" by getting involved with bulk wine and spirits.
All Eyes on San Francisco
In July 2019, leading industry professionals from around the world will head to San Francisco to hear more about the exciting trends happening within the bulk wine and spirits world. If you've ever wondered how to get involved in the private label trade, or how to source bulk wine from anywhere in the world, the IBWSS San Francisco show has you covered. Throughout a two-day period, a series of presentations, workshops, seminars and panel discussions will cover every aspect of the bulk wine and spirits industry.
The list of confirmed speakers for IBWSS San Francisco includes some of the biggest names within the wine and spirits industry:
Steve Dorfman, Partner at Ciatti Company

Bill Abrahamson, Senior Wine Buyer, Liquors Plus

Gabe Barkley, CEO, MHW, Ltd.

Maurice DiMarino, Wine and Beverage Manager, Cohn Restaurant Group

Jena Domingue, VP of Global Sales, WineDirect

Tim Hanni, MW, Speaker at Napa Wine Academy

Jennifer Leitman, EVP of Marketing, The Family Coppola

Evan Stein, CEO, The Thornhill Companies

By attending these sessions and presentations, you will find out who is buying bulk wine, how retailers can communicate to consumers the real value of store brands, the current state of private label wine and spirits brands in supermarkets and off-premise establishments, and how to create private label brands for retail customers.
As well as a full conference program, IBWSS San Francisco also acts as an important trade exhibition event, offering the chance for bulk wine and spirits brokers, contractors, producers, wineries, distilleries and distributors to set up trade show booths and do business across two full days in one of America's most important wine cities. Whether you are a bulk wine producer from South America or a wine retailer in San Francisco, you will find the types of valuable partners that could lead to your future success in navigating the bulk wine and spirits industry.
Following the highly-acclaimed success of the first two IBWSS shows in San Francisco, space is already filling up for this year's event in July 2019. This summer, all eyes in the bulk wine and spirits trade will be on California. Now is your chance to exhibit at North America's premier bulk wine and spirits event, and to attend a two-day business conference headlined by some of the industry's most important names.
Where and When
July 23-24, 2019. South San Francisco Conference Center, 255 South Airport Boulevard, South San Francisco, California.