Trends and Future of Bulk Wine Industry - 2019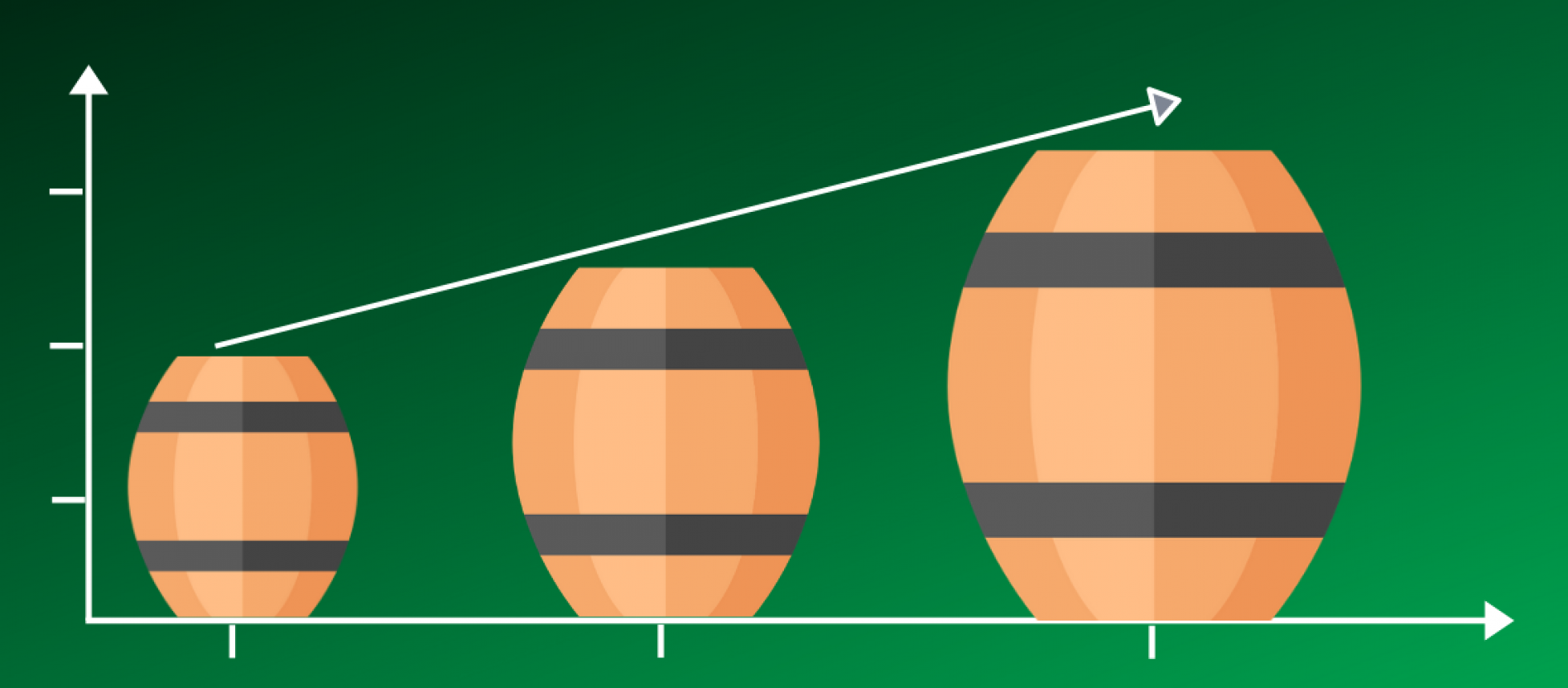 Wine lovers cannot wait as the Trends and the Future of the Bulk Wine industry looks promising and fun.
16/04/2019
The old school wine enthusiasts might not admit it, but the world of wine would be a fraction of what it is without the bulk wine sector. Even the French bulk wine industry is much larger than it seems. Let's take a look at what the upcoming trends in the bulk wine industry are and how its future looks like.
Quality & Quantity go hand in hand
The bulk wine buyers and suppliers are not only looking at the quantity but they are also giving major importance to the quality of the wine. This is one of the reasons that bulk wine now accounts for 40% of all wine exported globally, and is worth more than €3,000 million overall.
According to Otilia Romero de Condés, the Chief Executive of the World Bulk Wine Exhibition (WBWE), "Not only have the number of players in the market surged but quality, too, has undergone a revolution in terms of quality over the past decade."
Future of the Grapes
2016 and '17 saw an estimated number of over 4 million ton harvests. Following that, the industry saw a record-breaking harvest of 4.1 million tons in 2018, which was a 2% hike from 2017, and above the historical average of 3.9 million tons. Vintners reported these abundant yields in line with the United States Department of Agriculture's August forecast. Due to these stats, many Californian wineries are left with more fruit yield as compared to the tank space. Sadly, the market conditions are not evolving at a pace where excess supply can be welcomed.
Because of this, many clients will resist advancing into new multi-year contracts altogether, predicting the lower pricing available on the spot market as more uncontracted fruit and bulk comes online.
Good news, however, is that the fruit and bulk from many previously inaccessible labels will become increasingly available & competitively priced which will allow the potential buyer a chance to secure supply to raise the quality of existing labels and add some new ones to their programs too.
Producers & Retailers reaching out for Vegan wines
Having a vegan-friendly collection for the consumers and people actually upping the sale on those labels is just a nod to the changing consumer behaviour and taste.
For those who don't know, many winemakers use animal products in the "fining" process but the advancing consumer interest in the vegan intake is driving growth in the organic and vegan wine sector. Although the demand is increasing, bulk wine buyers still find it difficult to find bulk wines which are vegan, because it takes time for large wineries to adjust their production methods, and even longer to get the final decision approved. One of the trends that the wine industry will see soaring in 2019 will be vegan wines in the bulk wine market, as the need for it has already begun to rise in the US, England, Holland, and Germany.
While Spain leads its way to growth, New Zealand & Argentina face a decrease
Posting a 27% increase in the value of its exports to €660 million, Spain pulled ahead of Italy to become the key supplier of bulk wine around the world. Meanwhile, New Zealand and Argentina saw their yields decrease, by 9.5% and 26.4% respectively. New Zealand's volumes remained stable, at +0.6%, while Argentina's dived down by 34%.
Germany, The UK & France levitated their way for good
However, the three topmost bulk wine importers were recorded to be Germany, The UK & France. Germany increased its import by 16.5% which is €570 million. The UK, up 17.8% to €555 million, and France saw the biggest increase of 28% taking its total bulk wine imports to €335 million.
Australia got all eyes on it, while Chile is another player & Italy has been hit by a short harvest
Australia is one of the important organs in the global bulk wine business body. Contributing to the global growth in bulk wine, it is the third largest global exporter. Australia's traditional market is the United Kingdom, where 80% of Australian wine is shipped in bulk volume. The scenario can change soon & the UK might have to fight a tad bit harder for the share as there can be a stiff competition and demand from China, whereas Australian exports have soared by 32% of bulk volume and 34% by value in compound annual growth rate in five years to the end of June 2018.
which is another huge trader in the global bulk wine market, saw its volumes drop by 5%, while its value went up by 4.2%. While Argentina used to be the key destination for Chilean bulk wine, Chile has seen shipments to its South American neighbour sink by 97% over the past few years.
Also, Italy, one of the largest producers of bulk wine globally, has been hit by a short harvest. The survey shows that because of 2017's short harvest, it imported 21% more bulk wine, although it decreased its expenditure by 7.6%, by dropping its purchase price by approximately 25%.
While Portugal ascended than any other supplier, France, and the United States scaled the value and not the volume. France and the United States both reported a large rise in value than in volume for their bulk shipments. While that was happening, Portugal, although far from the top positions of the world's ranking, grew more than any other supplier in relative terms, jumping by 31% in volume and 35% in value.
World Bulk Wine Exhibitions
Bulk wine competitions are especially held to grow the industry worldwide. WBWE, that is the World Bulk Wine Exhibition, is the world's largest trade fair only dedicated to the bulk wine business. Otilia Romero de Condés, CEO of the World Bulk Wine Exhibition (WBWE), said that 'the tenth edition of the show was more diverse than ever before hosting not only large, bulk wine operators but also new producers and medium-sized companies in pursuit of very specific quality wines for their businesses.'
The IBWSS San Francisco
The IBWSS SF was introduced in 2017 at its very first event in San Francisco. It was then followed by hosting the first dedicated bulk wine show in the UK in February which was in 2018. The show has already returned this year with its second UK event which was held in March (11-12) and it looks promising as it is going to enter San Francisco again between July 25-26, 2019.
Gary Agajanian, President & CEO of Agajanian Vineyards & Wine Company, amongst other exhibitors and visitors sharing their experience about IBWSS SF said that "Buyers that we have met at #ibwss17 knew exactly what they wanted, they came with a precise need and it was good to talk to them. It's been a great show for us so far!"
Tips for the producers entering the US bulk wine market
Firstly, if you are thinking of barge in the US bulk wine market, recognizing the top competitors is the first step you should take. Don't take private labels lightly. A lot of retailers, such as Whole Foods and Aldi, sell a lot of private-label wines. Visit the trade shows as much as you can. That will provide you with insights on the industry. Send your wine to the wine competitions to know where you can make your product better and boost sales. You need to have a quality customer service who understands how to do business in the frequently changing US market. The next step should be maintaining the quality that you promise. Getting creative & innovative with the label design is a crucial part which is often taken very lightly by the producers. Innovation being the key, bring up new ideas for new packaging to keep your product interesting! Approach the smaller importers and expand your business. Lastly, an important tip will be to continually evolve your company as you grow your brands in the United States.
The wine lovers are eager to see the next big trend for bulk wine. Whatever it may be, the bulk wine industry promises fun and will hopefully also make some good quality & also price efficient wine available to consumers all around the globe.
Sources:-
http://www.the-buyer.net/insight/the-world-bulk-wine-exhibition-celebrates-its-10th-anniversary-in-amsterdam/
https://www.forbes.com/sites/lizazimmerman/2018/11/30/the-new-bulk-wine-market/#15300f7a5aa7
https://grapeconnect.com/spot-bulk-wine-and-grape-market-promises-exciting-opportunities-in-2019-and-beyond/
https://premiumwinebroker.com/brokers-blog/2018/9/22/buy-vegan-wine-in-bulk-vegan-bulk-wine
2024 Exhibitor registration is now open. Get in early at the lowest price and select your table first. See exhibitor pricing.