Industry Leaders Put Bulk Wine and Spirits Top of the Agenda
July 2019 event in California will bring together buyers, sellers from around the world.
In the past decade, the bulk wine and spirits trade has emerged as one of the key drivers of the modern wine and spirits industry. For both buyers and sellers, being able to participate in the bulk market has led to the creation of entirely new business models, new ways of thinking about private labels, and a revolution in the quality and assortment of wines that they are available to consumers.
To celebrate this trend and take a look ahead at what's next in 2020 and beyond, industry leaders will be meeting in San Francisco on July 23-24, 2019 at the annual International Bulk Wine & Spirits Show (IBWSS). A full two-day business conference featuring high-profile industry speakers will complement a dynamic exhibition trade show floor featuring producers, suppliers, distributors, and negociants from around the world. And all of this will take place in the very heart of California wine country.
REGISTER TO ATTEND THE CONFERENCE AND VISIT EXPO FLOOR
IBWSS will help you understand the bulk wine and spirits market
Look at the back bar of any major restaurant or pub, browse the aisles of any major wine and spirits retailer, or peruse the drinks list of any on-premise establishment, and it's highly likely that the items available for purchase have been influenced, in one way or another, by the bulk wine and spirits trade. The list of the most popular retail wine brands, for example, now includes many bulk wines.
Bulk wine is no longer just about transporting cheap wine from Point A to Point B – it's now about fundamentally re-thinking the very foundation of the wine and spirits industry. From an economic perspective, it's now cheaper, easier and more convenient to ship in bulk and bottle in-market than it is to import bottled wines and spirits. Moreover, market participants now have much greater flexibility in creating custom blends that are precisely suited to the tastes of their best customers. Many of the under-$10 wines found in supermarkets or major retailers are actually bulk wines. The same is true for many of the wines listed at $30 and under on the wine list of a restaurant, pub or wine bar.
But how much do we really know about the bulk wine and spirits market? There's a lot to explore in order to understand the overall dynamics of the market – everything from currency exchange rates and shipping logistics to how to create new private label brands based on bulk wines sourced from around the world. Many wine drinkers, when they pick up a $10 bottle of wine in a retailer like Trader Joe's or Costco, may not even begin to understand all of the steps that are required to make a red blend consisting of their favorite wine varietals.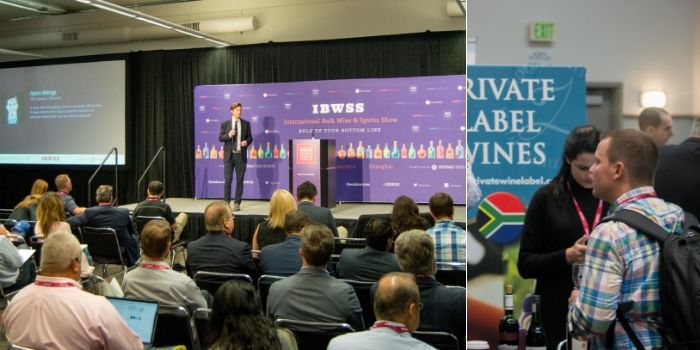 The agenda of IBWSS San Francisco
All of which brings us to the agenda of IBWSS San Francisco. This major bulk wine and spirits show is where all of these different ideas and concepts come together. It's a unique opportunity to view the bulk wine and private label market from a variety of different perspectives. The IBWSS event provides opportunities for buyers and sellers to meet in one central marketplace. In addition to the two-day business conference, the event includes a dynamic, trade show floor featuring an A-to-Z list of exhibitors from around the world.
The event has already attracted an impressive lineup of speakers from across the North American wine and spirits market. They will be covering the bulk wine and spirits trend from a truly impressive number of different perspectives. You'll walk away from the event with a much better understanding of why retailers and other off-premise establishments are embracing private labels, you'll see how changing consumer tastes have a direct impact on pricing in the bulk wine market, and you'll see why importers, brokers, and distributors are widening their network of potential partners to include suppliers and producers from places like Australia, New Zealand, South Africa and Chile.
Some of the industry leaders that you will hear from at IBWSS San Francisco include:
Steve Dorfman, Partner at Ciatti Company. Dorfman will be analyzing current market data to see who is buying bulk wine, and how pricing continues to fluctuate in response to a number of different factors.
Dave Carpenter, Master Blender, Deutsch Family Wine & Spirits. Based on his experience with blending spirits, Carpenter will talk about getting over the "stigma" of sourced spirits.
Christopher Durham, President, My Private Brand. Durham will be analyzing the current state of private label wine and spirits brands in supermarkets and why they should be a top priority for any business.
Mari Kelly, VP, Private Label Wine Sales, and Business Strategy. Kelly will cover everything you need to know in order to create private label brands for retail customers. From concept to consumer, Kelly will walk you through the key steps.

VIEW THE LIST OF SPEAKERS OF 2019 IBWSS CONFERENCE
This is a unique opportunity to hear directly from industry professionals who are working directly with bulk wine and spirits and private labels. If you would like to grow your bulk wine, bulk spirits or private label business in the USA, then you need to attend the upcoming IBWSS event in San Francisco.
IBWSS San Francisco: The Details
What: IBWSS is organized by Beverage Trade Network, which provides online and face-to-face opportunities for wine producers and buyers to do better business around the world. The two-day event will include an exhibition trade show floor featuring providers, brokers, producers, and shipping and logistics companies.
Where and when: July 23-24, 2019. South San Francisco Conference Center, 255 South Airport Boulevard, South San Francisco, California.
Who should attend? The event is relevant for growers, wineries, distilleries, breweries, importers, distributors, retailers or negociants involved in the making, selling, buying and distributing of bulk wine and spirits.
How to attend: Go to IBWSSHOW.com for full visitor and exhibitor details.
EXHIBITOR REGISTRATION | VISITOR REGISTRATION