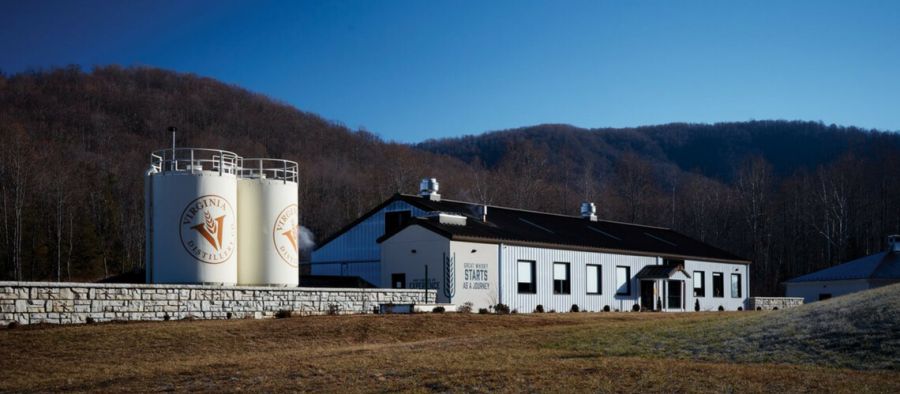 Virginia Distillery Co. – Offering Award Winning Single Malt Whisky
Virginia Distillery Co. - An American Single Malt Whisky Crafted In Virginia's Blue Ridge Mountains
28/08/2018
Located amongst the Blue Ridge Mountains in beautiful Nelson County, Virginia, Virginia Distillery Company is an American Single Malt distillery. The Company is known for its Virginia Highland Malt, brought from Scotland. Virginia Distillery Company marries single malt whisky made on-site in Virginia with aged malt whisky from Scotland.
Virginia Distillery Story:
The late Dr. George G. Moore had a great passion for single malt whisky. In 1970, George came to the U.S to seek new opportunities. In 20111, George combined his two passions and started the Virginia Distillery Company.
George saying "Have the courage of your convictions" became the core principle of the distillery. George's legacy is carried at Virginia Distillery Company by reinventing American Single Malt Whisky. In the ideal climate of Virginia's Blue Ridge Mountain, every barrel is a culmination of the world finest distilling and is aged to perfection. Inspired by time-honored traditions, the distillery forge traditions of their own-making whisky more than what has been, while remaining true to themselves and their home.
The result: a whisky that George would've been proud of.
Today, George's wife, Angela Moore and their son, Gareth Moore, along with his wife, Maggie Moore, have taken the helm to continue building George's dream.
To fulfill the dream of his late father, Gareth Moore picked up to make whisky in Nelson County which was a matter of courage and conviction. The name Courage & Conviction is a tribute to his father, George, who pursued his passion for single malt whisky by buying the assets of the Eades Hollow Distillery.
Virginia Distillery:
Virginia Distillery has racked 2,400 casks of whisky for aging that's about 750,000 bottles and is now the largest distillery in the state and the nation's biggest producer of single malt whisky. The Whisky reflects the traditions of whisky-making combined with the influence in the new world.
The combined Whisky making tradition will result to Courage & Conviction, an extraordinary American Single Malt whisky, which is rooted in centuries of tradition and whisky making experience that also capture the essence of newfound home in the mountain of Virginia.
The Courage & Conviction is made using American two-row barely. Once the barley arrives, the grains take on a new character as it transforms into spirits. Once made, the spirit will age, using the influences of Virginia's Blue Ridge Mountains to draw out various flavor profiles. Aging in Bourbon, Sherry and Cuvée casks, our hot summers and cool winters create a unique maturation profile, as temperature and humidity vary day-by-day as well as season-by-season.
Virginia Distillery Production Method:
The barely is stored in two 36-ton malt bins on site at Virginia Distillery Company. The malt is transferred from the bins to the 1920's Boby Mill, to be milled.
The Boby Mill splits the grains into three parts and produces the grist, which is combined with water to start the production of whisky. Yeast is added, producing "wash", which is similar to an unhopped beer of approximately 8 % alcohol by volume.
Virginia Distillery has distilling equipment which includes copper pot stills made by hand which was brought over from Scotland as well as the whisky-making expertise.
The wash gets transferred to that two copper pot stills to begin distillation. Copper is used because it has the ability to conduct heat and remove sulphur-based compound. These compounds lead the whisky to have an off-flavour.
The copper pot stills are heated indirectly using a boiler and steam system to avoid contamination of the spirit. The shape and height of the still influence the flavour produced in the spirit. After making its way through the distillation process, the finished spirit is casked and stored for aging, until it says "I'm ready".
Virginia Distillery Whiskies:
Virginia Distillery is an American single malt Whisky crafted in Virginia's Blue Ridge Mountains. Virginia Distillery Whisky brands include:
1) Port Cask Finished Virginia-Highland Whisky
The flagship Port Cask Finished Virginia-Highland Whisky is made from 100% malted barley. This Virginia-Highland Whisky showcases the old world and the new world whisky-making traditions. Cask finishing in port-style wine casks sourced primarily from Virginia adds depth and complexity.
2) Charity Cask Virginia-Highland Whisky
The Charity Cask Program is the opportunity for Virginia Distillery Company to give back to their local community. The flagship Charity Cask Virginia-Highland Whisky is Straw gold in color. On the palate, this whisky offers hints of vanilla and mocha, melding together for a smooth and vibrant finish.
3) Cider Cask Finished Virginia-Highland Whisky
Marrying whisky from Scotland with whisky made on-site in Virginia, the Cider Cask Finished Virginia-Highland Whisky is made from 100% malted barley. The producers such as Potter's Craft Cider and Buskey Cider cask finish for 8-20 months in cider casks. This process influences the notes of apple, pecan and vanilla.
4) Chardonnay Cask Finished Virginia-Highland Whisky
The second batch of Chardonnay Cask Finished Virginia-Highland Whisky rested for an average of 12 months in finishing casks sourced primarily from Virginia wineries such as Grace Estate Winery, Michael Shaps, Virginia Wineworks and Paradise Springs Winery. Each partner barrel brings the hints of pear, vanilla and baking spices add intrigue on the palate, finishing with a soft creaminess.
5) Brewers Batch Virginia-Highland Whisky
The Brewers Batch is a new collection being offered under Virginia Distillery Company's Virginia-Highland Whisky series. This batch features finishing casks sourced from local breweries. The first batch was done in collaboration with Three Notch'd Brewing, a Central Virginia favorite.
To read more about their award-winning whiskies visit Virginia Distillery website.
Meet 100+ industry experts, consultants and thought leaders of the Wine & Spirits World under one roof at the 4th annual IBWSS San Francisco. Super Early Bird ends on Feb 28, 2020. Includes 2-day conference ticket as well. Become a Visitor.