Your Guide To Building A Successful Private Label Brand
Katelyn Peil Beverage Director of Heavy Restaurant Groups discusses the key metrics that any small on-premise organization should keep in mind while developing a private label brand.
11/04/2022
Private label brands are increasing in the US market like never before. According to VinePair.com, the United States imported 383 million liters of bulk wine in 2020 which is around 62% of the past decade. However, the on-premise industry like restaurants and hotels are facing tough challenges due to increase in food costs, shipping costs, production limitations, and shortage of labor. Nonetheless, these smaller on-premise organizations are looking for new and innovative revenue streams to increase their profit margin.
[[relatedPurchasesItems-49]]
Profit margin alone is the key driving metric that any small or large operation will consider before partnering with a private label.
This is already a low-margin industry for a small operation and the main focus is to increase this margin when an opportunity comes up.
The intention of any restaurant or hotel should be to purchase a product that has a legitimate intended purpose and should provide the guests with a unique high valued product while also earning money with a higher profit margin. Profit margins are crucial for any business as they can give new opportunities to increase revenue and eventually grow the business. Higher profit margins in private labels make it very attractive for small operations as it helps to eliminate the supply chain margins of distributors, suppliers, etc as they are focused on the volume of sales and not helping small operations to find a perfect product for their customer needs. Thus purchasing a private label gives flexibility in curating a product that coincides with the market needs and a higher profit margin.
Restaurant Supplier Relationships.
Background Check
To have a good relationship with your supplier, restaurants should always look at the current and former customer reviews and the supplier's overall impression amongst other restaurants. You don't want to jump too quickly and then regret your decision. Thus, when it comes to business, it is crucial that the vetting process is thorough.
Can the supplier handle the load?
The supplier must be comfortable in taking up the operation, deliver on time, and maintain a steady cash flow. This should be compatible on both parties' ends
Shared goals Core Values.
The core values of a supplier must align with your restaurant operation which will lay a foundation for a successful product development
Initiative to acknowledge requirements
The beverage industry is a "NOT A ONE SIZE FITS ALL" industry as different organizations have different customer requirements. Smaller operations do not have the same requirements when it comes to quantity and quality, compared to a large organization.
Get familiar with the demographic
As a supplier, one should know the local demographic requirements and should isolate the key target metrics. This will indeed help to capitalize on the locale and create a successful foundation for the supplier and restaurant relationship.
A supplier should be willing to identify the key requirements of a restaurant in a specific locality and should help the organization in proper product development. Usually, volume is made off-premise which is perfect for creating a private label, however, opportunities to work with small-scale brands should not be ignored.
"Although volume is created off-premise, Brand is made on-premise and a successful brand building will lead to an increase in volume."
It is necessary that both sides of the partnership feel comfortable with one another even if the operation will be technically a customer of the supplier. Now, once the partnership is solid on moral and ethical grounds, let us get into the important thing, the MONEY!
Discussing money is very important for any organization and when it comes to finances, transparency and setting expectations early should always be clear concepts from the beginning.
Cost
It is very crucial to discuss the cost of the goods and negotiations about the cost upfront like a deposit, 50% payment, All these should be taken into consideration and contract clarity should be mentioned. Everything that concerns the supplier and the operational organization should be acknowledged and a contract or a handshake deal should be made.
Cash Flow
Once the product is made, there must be enough cash flow from the supplier's end to ensure the product sees the light of the day. Suppliers should not sell or commit to something that they cannot fulfill.
Payment Terms
Important to negotiate the payment structure and its terms upfront. Questions like "who is going to take up the carrying cost throughout the project?"
"Will the operational organization has to pay everything up front, or a part of it?"
"Is the payment going to be quarterly?"
option for extended terms, "will there be an option for postponement of payment if a financial crisis hits?"
Reliability from the Supplier = Loyalty from the Customer
Apart from the monetary terms, there are a few more key metrics that an organization must keep in mind before partnering with a supplier. These are Volume and Delivery. This can be a tough decision when it comes to smaller operations because of certain obvious reasons. They are listed below.
Minimum Commitment
Does the supplier have a minimum commitment to even get the product out from the warehouse and also does this commitment vary for domestic and imported products? This aspect should be clarified before getting into a partnership so that there is nothing hidden.
Inventory Storage
Smaller organizations do not have big storage facilities to keep the products. Thus a supplier must be told of this situation and the supplier should be asked whether they have any provisions to store the product at their facility or any other arrangement to store it offsite. This can be a deal-breaker for a lot of organizations, especially on a small scale.
Delivery Terms
Things like a minimum case order and whether the restaurant can take the delivery in small amounts or parts from the supplier should be discussed. Is there a depleting timeline for the operational organization to finish all the products and other similar things should be taken into consideration before getting into a deal?
PRODUCT DEVELOPMENT
An organization must reciprocate with certain facts and then only decide to further develop the product. Facts like the intended purpose of the product, Volume, cross-utilization, and quality to value ratio are some strong determining factors for product development.
Apart from this, while developing a private label product, the intended location of sale matters a lot. Is it going to be domestically produced or has it to be imported? These two categories have different individual key metrics that can decide the future.
In terms of imported products, there are a lot of regulations involved like labeling, customs, timing schedules, and shipping cost. Whereas in a domestic product these costs are eliminated.
After deciding on this choice, now it comes to selecting the base product. There are mainly two styles to work with.
1. Negociant Private Label Product
2. Branded Product and built a proprietary product from it.
Negociant Style Products
Negociant and wine merchants' styles are well known and have a long history in the wine industry. Negociants are people who buy grapes, grape juice, or even bulk wine that is then bottled, labeled, and sold in the wholesale market. One school of thought puts these merchants in the infamous spot. These merchants are involved in capitalizing on the wine by just bottling and labeling the wine and disregarding the hard work and art behind creating this iconic grape juice.
However, the new generation is transitioning this image and is looking for more proprietary brands where they can get to know the craft and location specifics with alternative packaging. These people generally look to consume the wine in a short amount of time rather than collecting it. This enables the producers to be more transparent and boast specific highlights like vineyard sites and climate changes, the winemaker's hard work, and also the fruit quality.
This has helped the negociants to capitalize on these factors and develop a proprietary brand and focus on the target clientele while developing the product. Apart from a higher margin, this style of the private label also helps to create exclusivity which can offer high quality to value ratio as there are not many brands established in the market as such.
Branded Products
This is considered a reactive approach rather than a proactive approach that we see in the negociant style. As the base product is already well rounded, there is less chance to customize according to the customer requirement. This is easy to source as wineries and breweries have surplus inventory that they want to remove from their facility. Moreover, product development does not take up much time and we can get a final product in a relatively shorter amount of time. This can give the organization a chance to market the product using the brand's name and try to sell more based on that and often get opportunities to cross-market and reach a bigger audience.
Additionally, there is a low financial burden as the commitment is smaller but that in fact may affect the product consistency. Moreover, the base product depends upon how much surplus inventory the brand has and will they have time for your smaller organization or not. One more thing to consider is the exclusivity of whether the brand will create this product only for one specific organization or will it sell in another market which will kill the exclusivity factor altogether.
Generally, all such brands sell their products either via D2C or retailers. Whereas, small organizations would prefer to sell it on-premise. Thus it is important to discuss the margins and not undermine each other where the product is sold at two different price points in the same market. Using already branded products will offer less flexibility over prices and in a way affect the quality to value ratio as a small organization can not counter the integrity and already fixed policies of a well-established brand.
Overall, an organization must weigh the advantages and disadvantages of both; negociant and branded product styles. Whichever style one chooses, one non-fungible metric is the actual quality of the product.
"I will never sacrifice quality for profit"
Lastly, one final metric that every organization should consider before partnering with a supplier is the level of involvement. Involvement is required in 3 stages of the product development cycle
Physical Product Involvement
Whether the team will get a chance to be involved in the production, harvest, blending, and other back-end activities that go into the making of a private label. However, this depends on the location of the distillery, brewery, etc.
Packaging Involvement
Whether the organization will get a chance to give an opinion about the design of the bottle shape, glass color, cap choice, and label design.
Regulation and Education
There must be a part for the small-scale organization to speak about the labeling regulation and handle any issues regarding it if necessary. Training the staff in the organization about the actual sales service and presentation of the bottle to the guest and other on-premise activities.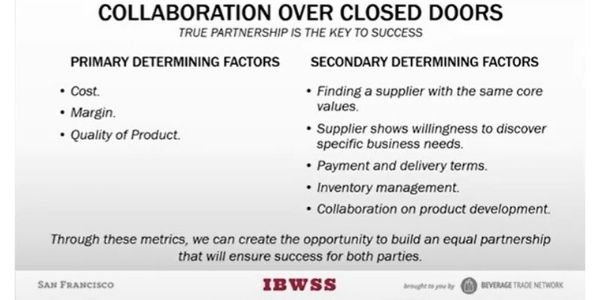 Article by Arjun Moghe, Beverage Trade Network.
2024 Exhibitor registration is now open. Get in early at the lowest price and select your table first. See exhibitor pricing.