Meet the flying winemaker, Nova Cadamtre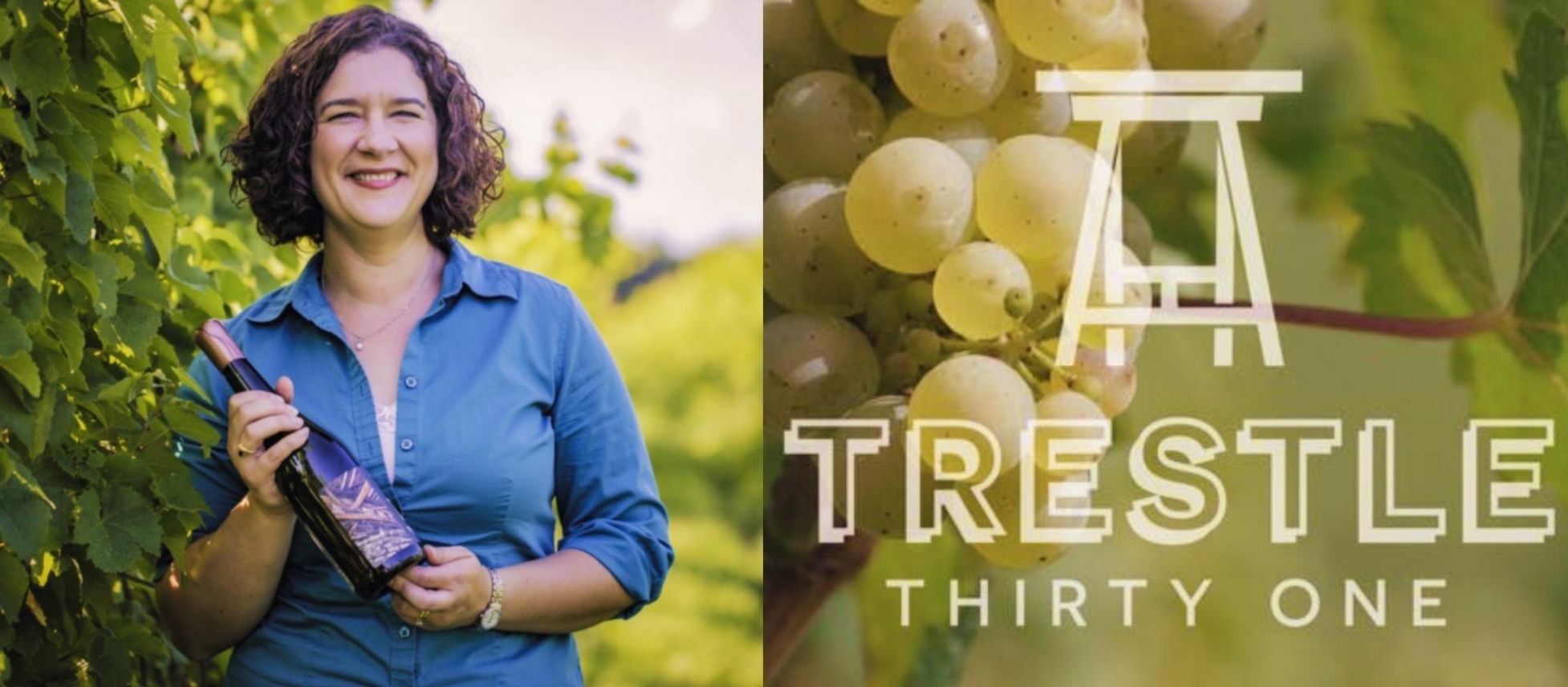 A woman with many titles to her name, Nova Cadamtree is the first female winemaker MW in the US, the "flying winemaker", and owner of three wine brands
28/06/2023
From becoming an MW to starting three wine brands and flying between the East and West Coast US to make wines, Nova Cadamtre has come a long way from where she started, but with so much more on the cards, there's no way she's stopping any time soon!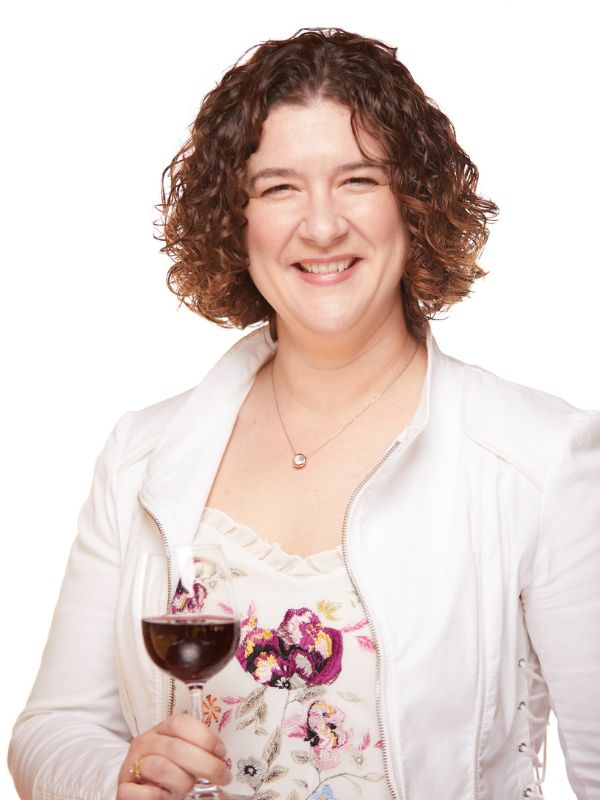 Image: Nova Cadamtree
Many years ago, before you decided to get a degree in winemaking from Cornell, how did you think of becoming a winemaker?
I'm going to blame this on my husband Brian. When we were in college he said "We should start a vineyard. My family in Italy did it. It can't be that hard." I started looking into how difficult grapes were to grow and fell in love with the industry. Turns out it is really hard.
In 2022 you spoke at the IBWSS about Women in Business or rather being an entrepreneur, what it means, and what one should expect on this journey. How did it begin and how is it going?
It began very small. 119 cases of Riesling. Now we own three brands (Trestle Thirty One and Snowshell Vineyards in the Finger Lakes and Fiadh Ruadh in Napa) and I consult for several others. I am now working full-time for our own company but for the first 7 years, both Brian and I were holding full-time jobs and running our own company. It's so nice to be able to go to work for myself now!
Napa and Finger Lakes, are two different terroirs. How have you learned to differ and balance your winemaking in both regions?
I love being able to make wine in both areas because they are so different. Napa is a warm Mediterranean climate meaning it has wet and dry seasons and the Finger Lakes is a cool Continental climate which means the temperatures between the summer and winter are quite extreme and we get weather throughout the year of various types. We just recently had a major late frost so our weather is quite similar to Burgundy in a lot of ways. Napa can make luscious Cabernet Sauvignon and I love that style the Finger Lakes make more restrained European styles of wine so I get to do both!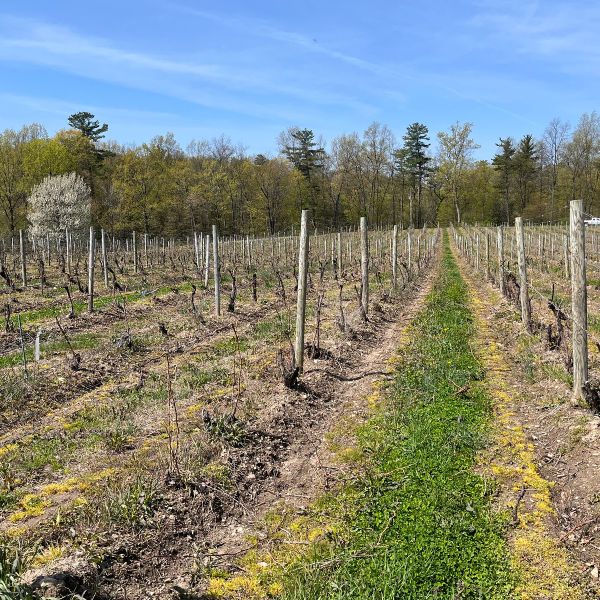 Image: Gibson Vineyard in the Finger Lakes (Trestle Thirty One's new leased vineyard)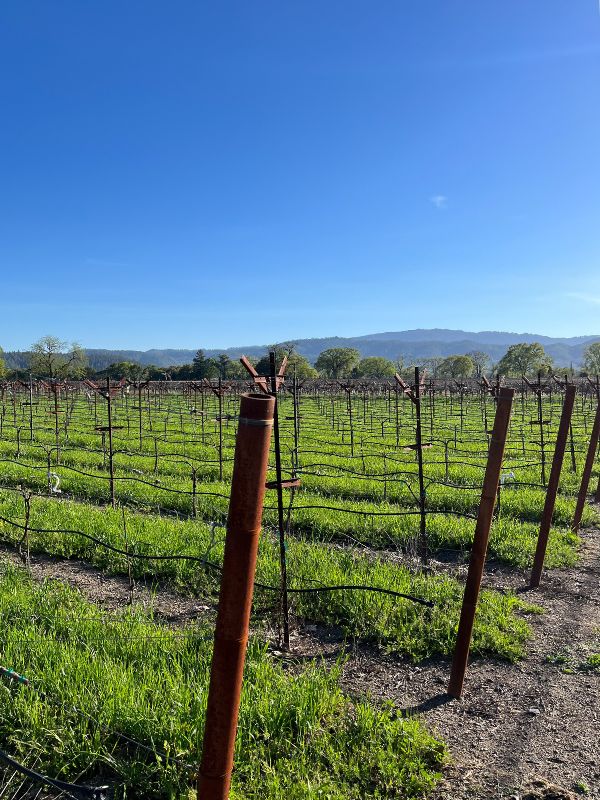 Image: Nemerever Vineyard in Napa, CA for client Doi Da Winery
Do you augment your grape production by sourcing bulk grapes from other growers? What are the factors you consider for this?
Yes. Right now we are nearly 90% sourced fruit. We just leased our own vineyard which is our first foray into growing our own fruit. So far I'm loving it and can't wait to expand to more in the Finger Lakes. We'll probably be purchasing 100% of our own fruit in Napa for the foreseeable future since our brand there is very small.
What is your approach to blending wines?
Have a vision of what you want to build before you start. As you are tasting the wines just speak to me and I can tell what they will add to a blend or not. Then you just try them together. Most of the time what I think will happen does but sometimes I'm surprised so you always have to try things before actually assembling the blend.
Are you experimenting with yeasts to create different textures and layers in wines? Is anything interesting you have found as a result?
I love native yeasts but I want to make sure I'm very comfortable with the fruit before I do that. I also really enjoy trying new strains of yeast in small batches but for my main choices, I tend to go back to the same ones.
What steps do you take to become more sustainable?
It all starts in the vineyard. We really try to reduce the number of times we drive through the vineyard so right now we are transitioning our leased vineyard from chemical weed control to a hay mulch under the rows. We also really believe in trees as a source of CO2 capture so we own around 43 acres of forest. According to the 8 Billion Tree Movement, one acre of forest can absorb between 4.5 to 40.7 tons of carbon dioxide and produce up to four tons of oxygen. That means our trees on average may be absorbing as much as 1,556 tons of CO2 per year! Forests are very important and we plan to keep our forests as forests so that they can continue to help with the CO2 levels in the atmosphere.
[[relatedPurchasesItems-62]]
Can you describe your typical day at the winery?
Ha! There are no typical days. Some days I'm in Napa, others I'm in the Finger Lakes. I can be in the vineyard, winery, or tasting room. Sometimes I'm at my home office. On other days I just spend driving in my car between winery sites. I'm all over the place.
Anything new we can expect from Trestle Thirty-One in the coming year?
We have just redone our website to make it more user-friendly and easier to order from. We also focus on full transparency in what we do and use in our winemaking so all of our technical sheets are online and have all our ingredients listed. We are also getting ready to release our 2021 Cabernet Franc for Trestle Thirty One so that will be our first red wine in the portfolio.
How do you manage to be the "flying winemaker"?
I try to be very organized and use my time super efficiently. I spend a lot of time on planes and I use that time to power through emails or write. My cell phone is an essential tool because I can stay connected with my clients and team very easily. I'll bring my laptop and hop on a hotspot from my phone and work out in the vineyard on emails. It's all about being flexible and having a portable office.
What is your approach to expanding distribution for your wines?
We try to be very careful and deliberate about growth. Distribution really should be part of marketing, not core sales. Once you start thinking of it in that way, it helps drive where your focus should be. Our focus is on the DTC program and how distribution in key markets can help support that.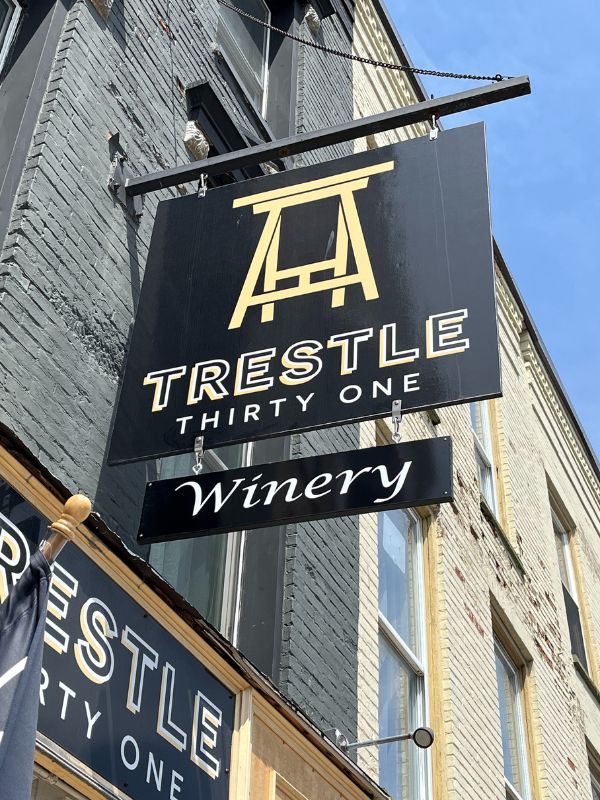 Image: Trestle Thirty One Tasting lounge sign in Geneva NY
You spoke about writing a book and approaching literary agents for publishing it. Tell us more about this.
*Laughing*. Yes. I'm still getting rejection letters from agents right now. Doesn't mean I'm giving up though.
You own three women-owned brands. What does this mean for you and for women in wine?
I want to promote that I am a woman who has built this business from the ground up by being scrappy, resourceful, frugal, and working like hell. While I don't love the fact that I'm more known for being a woman than being a great winemaker, I also understand that when you are blazing a trail you need to lean into who you are so that others can see that if you can do it, so can they.
If you weren't a winemaker, what would you be doing?
I'd own my own florist shop. That was my plan when my husband said we should start a vineyard so without that comment I'd probably be doing that.
In conversation with Malvika Patel, Editor and VP, Beverage Trade Network
2024 Exhibitor registration is now open. Get in early at the lowest price and select your table first. See exhibitor pricing.