Bulk Wine Industry Trends 2023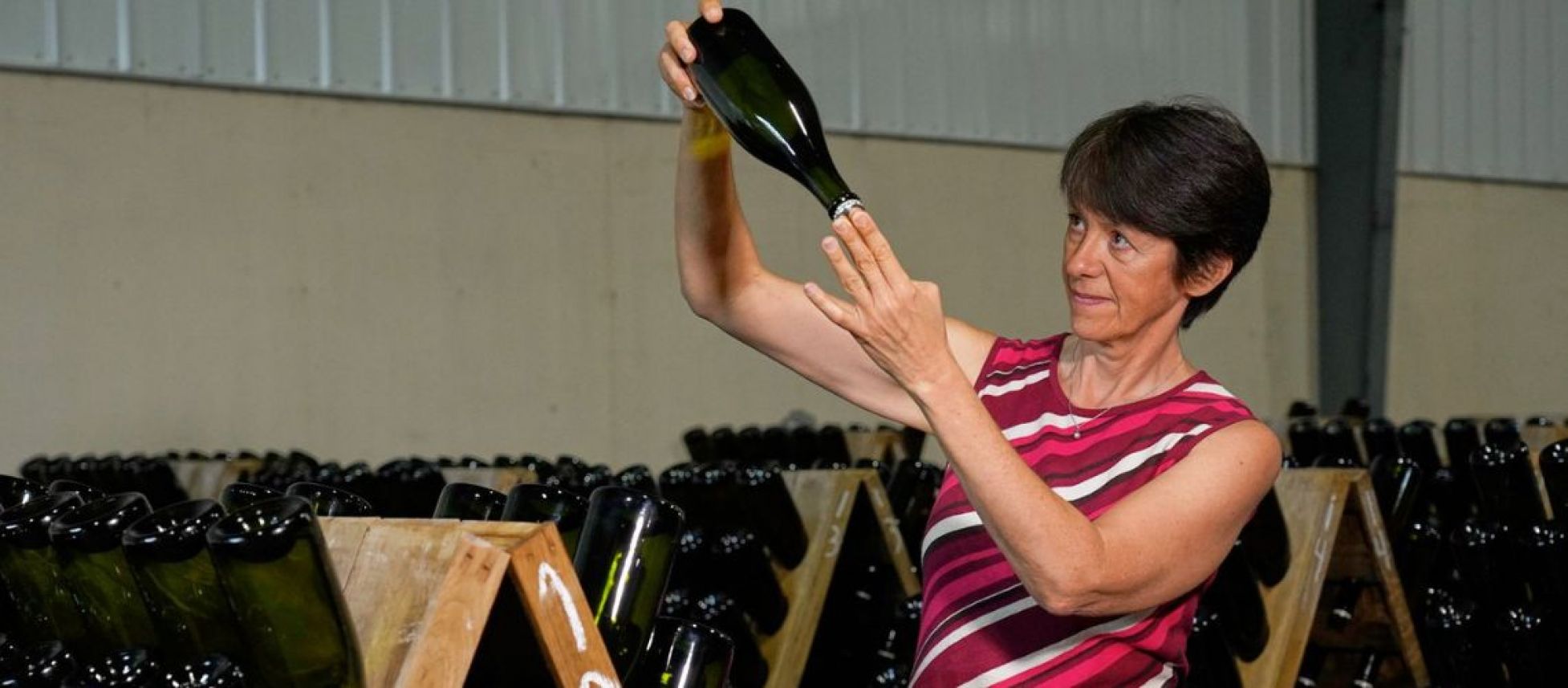 IBWSS exhibitors are wineries/distilleries selling bulk wine/spirits, and producers who offer contract manufacturing or private label programs - and here's everything they are doing differently in 2023.
23/01/2023
The International Bulk Wine and Spirits Show (IBWSS) is an annual trade show and conference, open to trade professionals only, which takes place in San Francisco, CA. IBWSS visitors are buyers looking to meet up their demand for bulk wines, bulk spirits, private label programs, grape buying, or contract manufacturing. The trends they should watch out for are provided by ex-exhibitors in 2022 and 2021 shows, as follows :
A Sparkling Wine Boom is Upon Us
- Rack & Riddle, Custom Wine Services & Bottling
One specialty retailer, located in a resort area in southern Wisconsin, says his sparkling wine sales increased 60% in the past year. There's a sparkling wine boom on its way — and it's coming despite supply chain-induced shortages, higher prices, and a slump in U.S. wine sales.
[[relatedPurchasesItems-49]]
California is the biggest consumer of these wines by more than a 2 to 1 margin over the next highest state, Illinois, while New York City consumes the most bubbles for a U.S. metro area.
Given the extra time, expense, and specialized equipment required to make sparkling wine, many wineries turn to a company like Rack and Riddle in Sonoma County, one of the largest producers of sparkling wine in America.
Three Women Guiding the Future of Washington's Wine Industry
- Four Feather Wine Services, Custom winemaking, alcoholic beverage production and packaging services' interview on Seattle Times
"In Washington, the second-largest wine-producing state in the nation, more women are entering — and succeeding in — the historically male-dominated world of wine production. Among those writing the next chapters of the Washington wine industry are Devyani Isabel Gupta, the 29-year-old head winemaker for Valdemar Estates in Walla Walla; viticulturist Sadie Drury, general manager of North Slope Management and vineyard manager of historic Seven Hills Vineyard in the Walla Walla Valley; and Rebecca De Kleine, general manager and director of winemaking for the colossal Four Feathers Wine Services in Prosser."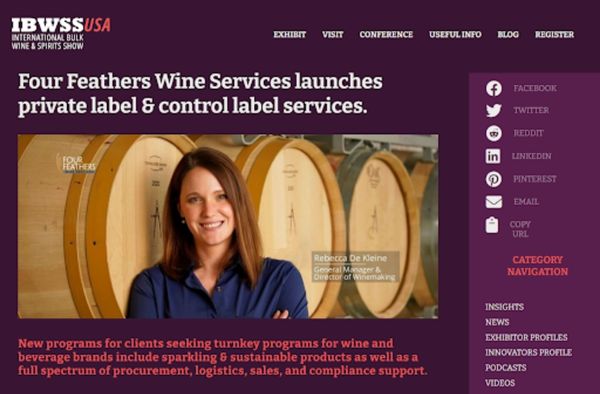 Read the blog here: https://ibwsshow.com/en/blog/exhibitor-profiles-67/four-feathers-wine-services-launches-private-label-control-label-services--482.htm
We expect to see a rise in Pinot Grigio imports in 2023
- Ciatti, Wine, grape, concentrate, and Grape Spirit Brokerage Business
Demand for the Central Valley's 2022 white whites and sparkling base wines has been good and – due to perceptions of lower domestic availability this vintage – we expect to see a rise in Pinot Grigio imports in 2023. On the other hand, Muscat's yields were good, defying the drought and likely sufficient enough to end the need to import. Regarding other imports, we expect to see an increase in red wines from Australia (currently offering the world's most competitive red wine export prices), perhaps in package deals with whites and likely at the expense of Chile.
"Higher grade alcohol. Lower carbon footprint."
- Clear Source, premier supplier of high-purity alcohol products
Our technique to create ethanol and high-purity alcohol products is a zero-waste process. We convert our renewable feedstock, corn, into sugars. After breaking down the corn starch into sugars, we ferment those sugars into alcohol using highly efficient yeast. Our world-class, high-purity distillation system then removes impurities to allow us to produce to industry-leading standards. Additionally, we separate the corn's remaining fat, protein, and fiber to sell across the northeast as high-quality feed products. We use every bit of every corn kernel we grind.
Premium products are moving a lot faster.
- Kayla Winter, BevZero, Low and No Alcoholic Beverages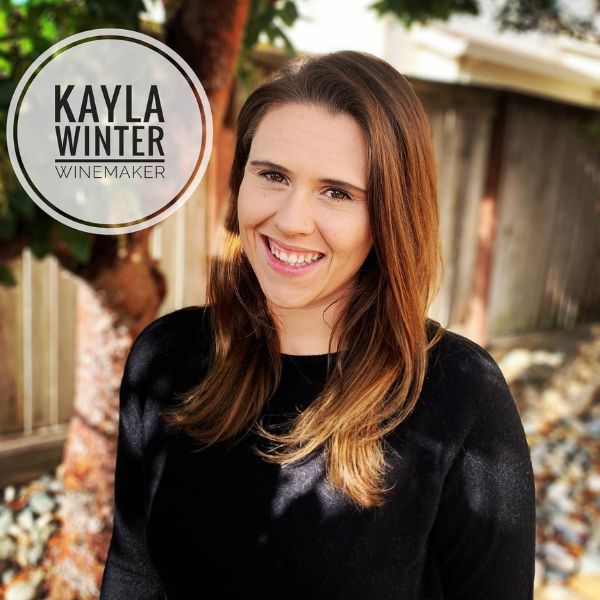 For a non-alcoholic premium, we define it as $20-30 would be 20-30. Those tend to be top sellers for retailers. Growth on both ends of the spectrum. Sommeliers, bartenders, and retailers asking for premium and lesser-known varietals. But on another side of things, people want higher quality brands that are affordable in big stores like Target and trader joes.
The category gives many different angles for existing big brands to get into. They can sell at all places, they can use this for advertising their brand on social media. They also need to offer their big customers the category.
Kayla is also a conference speaker at IBWSS 2023. Check out the full lineup here.
Join the biggest gathering of the Private Label, Bulk Wine, Bulk Spirits, and Contract Manufacturing Industry on July 25-26 in San Francisco. No-show offers buyers a greater opportunity to meet producers who offer private label wine, spirits, bulk wine, bulk spirits, and contract manufacturing. Become an Exhibitor today and grow your bulk and private label business in the US market.
Exhibitor Opportunities are closing soon.
Register here for the best prices: https://ibwsshow.com/en/tickets/2023-international-bulk-wine-and-spirits-show-exhibitor-registration/
Header Image Source: Four Feather Wine Services
Written by Stuti Khetan, Beverage Trade Network
2024 Exhibitor registration is now open. Get in early at the lowest price and select your table first. See exhibitor pricing.