EXPLORING AND CELEBRATING THE RISE OF PRIVATE LABEL WINES
Private label is one of the fastest-growing sectors of the modern wine industry, influencing everything from which grapes are grown in certain wine regions to the price of a bottle of the red blend on the shelf of your favorite supermarket. At this year's International Bulk Wine & Spirits Show (IBWSS) in San Francisco, which takes place on July 23-24 in San Francisco, you'll have a unique opportunity to experience every aspect of this important market category.
Over a two-day period, a group of high-profile industry leaders will walk you through the key issues and trends in the private label market, while a vibrant exhibition trade show floor will enable you to experience first-hand the globalization of the bulk wine and private label market. This year's IBWSS San Francisco event will explore some of the key themes, trends, and ideas that are shaping the modern private label market. You'll receive first-hand insights from top industry professionals, many of whom have built their own private label brands from scratch.
THE MARKETING AND BRANDING OF PRIVATE LABEL WINES
Perhaps the most exciting aspect of the private label wine market is how it continues to evolve and change. Just a few years ago, for example, "private label" was usually used to designate an affordable bottle of wine available for less than $10 in North America at a retailer like Trader Joe's. However, the cost/value relationship has changed dramatically, and it's now the case that private label wines sold by giant discount retailers like Aldi and Lidl are winning awards for quality at major international wine competitions.
In terms of branding and marketing, supermarkets and other retailers are starting to ramp up the time and attention they take in making a private label brand that is custom-fit for the tastes and preferences of a particular demographic group. The uber-popular 19 Crimes wine brand, for example, is perhaps the classic example of a private label wine brand that was designed specifically to appeal to new millennial wine drinkers.
In fact, given the time and attention given to brand-building, consumers may not even recognize the difference between a "store brand" and a "traditional brand." Case in point: British supermarket chain Sainsbury's recently launched a private label Camino del Angel "lookalike" brand that was virtually indistinguishable from the popular Chilean brand Casillero del Diablo.
PRIVATE LABEL WINES AS A TRULY GLOBAL PHENOMENON
One big trend to explore at this year's IBWSS San Francisco is just how global the private label market has become. Spend just a few minutes walking around the trade show exhibition floor at IBWSS San Francisco, and you can see this immediately. You'll see exhibitors like Barbarians SA, a group of independent family wineries that specialize in high-quality wines sourced from the Uco Valley in Mendoza, Argentina. You'll also find Cortecchia FulvioFiglia di Cortecchia Sergio, a premium Italian bulk wine producer located in Emilia-Romagna.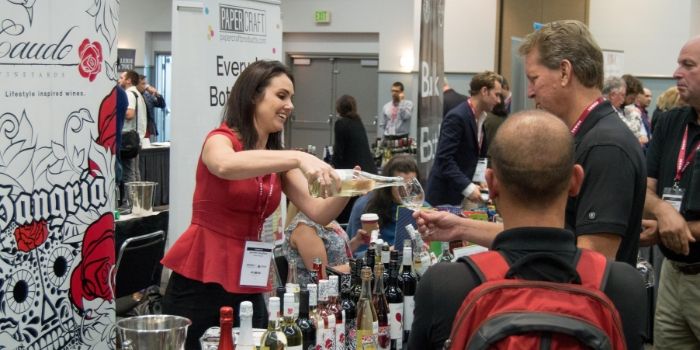 At the same time as the wine industry has benefited from globalization, consumer tastes are changing. Young wine drinkers are much more experimental and are willing to consider wines from outside of traditional wine regions like France, Italy or California. That's a big reason why Washington State wine producers are rising in prominence, and why wine nations like Spain, Chile, and Australia are now at the forefront of the bulk wine trade. And now that China has emerged as a major player in the global wine industry, from both a demand and supply side, the pace of globalization is only going to intensify.
To give you a sense of the global dimensions of the private label market, Steve Dorfman, Partner at Ciatti Company, will share details about who is buying bulk wine. Reports from Ciatti are chock-full of interesting details about which wine regions are on the upswing (or the downswing), as well as which wine regions are struggling with poor harvests, or which grape varieties are suddenly getting a jolt of consumer demand.
THE PREMIUMIZATION TREND IN PRIVATE LABEL
The days of Charles Shaw ("Two Buck Chuck") wines are long over, as retailers race to establish a new brand and line extensions, with an idea to reaching the premium tier of wine pricing. At Trader Joe's, for example, Charles Shaw is now relegated to one corner of the store, while other store brands like Trader Joe's Coastal and Trader Joe's Reserve garner much more shelf space and attention from consumers. And the big German discount retailers – Aldi and Lidl – are ramping things up even more by winning prestigious international awards for their wines. If you have a 90-point wine, how does that impact consumer perceptions of a private label wine?
At this year's IBWSS San Francisco, you'll hear from market participants like The Family Coppola, which is also embracing the private label trend. And you'll hear first-hand from key retailers, as they explain why the premiumization of private label is leading to an entirely new economic model. For example, Christopher Durham, President of My Private Brand, will explain why private label wines and spirits should be a top priority for any retailer – the profit margins are just too good to ignore.
By the end of IBWSS San Francisco 2019, you'll have the knowledge, insights, and connections that you will need to develop, launch and implement a private label strategy of your own. IBWSS San Francisco remains the premier North American platform for retailers, producers, wineries, distilleries, and brokers to source bulk wine and spirits and meets the leading private label suppliers in the industry.




Where and when
July 23-24, 2019. South San Francisco Conference Center, San Francisco, California.